Salut à toutes et tous, (ENGLISH BELOW)
Nous voilà revenus de cette petite tournée. Une très belle tournée que ce soit musicalement ou humainement. De belles rencontres, des lieux qui vous inspirent, de très bons concerts. J'espère juste que ce ne sera pas la dernière.
Merci à tous ceux qui sont venus aux concerts, à ceux qui nous ont reçus et merci à Alex de nous avoir trouvé ces superbes concerts.
Les prochains concerts de Louise Mitchels :
17 mars – Paris – Le Chiquito – avec Auxes, organisé par arrache-toi un oeil
19 mars – Le Mans – avec Gentle Veincut et Mobylette Facile
21 avril – Paris – avec John Makay, Grand Prédateur et Warsaw Was Raw
et maintenant, le moment que vous attendez tous
Le tour report, par Boris :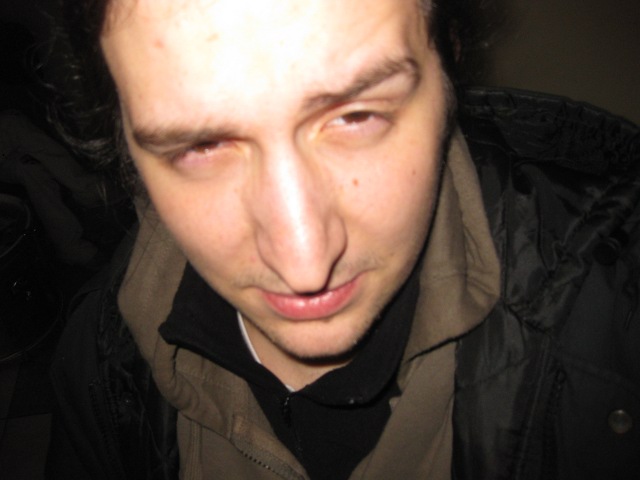 Day 1 : J'ai oublié de préparer ma liste habituelle pour que ma mère m'achète plein de paquets de gâteaux avant de partir. Tant pis, j'ai pris ce qui trainait, des biscuits fourrés, ça devrait le faire. Pascal a préparé une salade de pâtes pour la route, pas mal. Nous arrivons à Frankfort et nous sommes reçus chez la mère de Oli (l'organisateur de notre concert) qui a déjà préparé la tablée. Elle nous a cuisiné des spécialités Croates vraiment très bonnes. Je reprends deux fois du gâteau et je bois pas mal de café pour ne pas m'étouffer.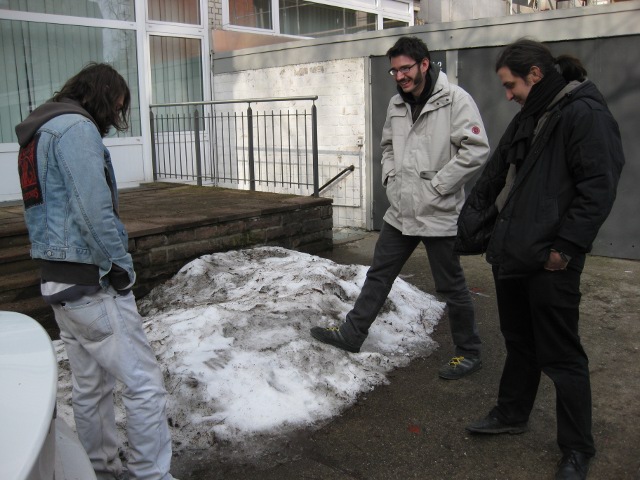 Day 2 : Petit déjeuner chez la mère de Oli, y'a balle de charcuterie. Y'avait des baguettes qui avaient le goût de Brötchen. Je n'ai pas pu me goinfrer autant que je le voulais, mais, heureusement, elle nous avait préparé des sandwichs pour la route, avec des petits mots dans les sacs.
Nous passons l'après midi à Würzburg, contre toute attente je n'ai pas super faim. Ça tombe bien, Charlie, l'organisateur du concert, un vieux hippy amateur de prog' psyché' a prévu une commande de bouffe indienne pour après le concert. Très bien.
Day 3 : Petit déjeuner à l'auberge de jeunesse de Würburg en compagnie d'un groupe de black metal qui n'avait vraiment pas l'air cool. Ils étaient tout pâles, ça se voit qu'ils ne mangent pas assez. Y'avait de la nougatine à volonté, j'en ai mangé 5 portions de 20 grammes, ça fait 100 grammes. Pas mal, mais je m'en suis mis dans la poche pour en manger plus tard. Ça me motive pour les révisions de mon examen de physique. En plus Tana m'aide à réviser, pendant que ces connards de Jojo et Pascal trouvent tout ça « surréaliste », je cite.
Arrivée en république tchèque. J'ai faim. On s'arrête à Prague et avec Jojo on va se prendre une petite part de Pizza, par principe. On va ensuite à une heure de là, à Hořice. J'ai encore faim. Hop, gratin de pâtes aux épinards. En dessert, un énorme gâteau au chocolat en forme de coeur. Autant dire que c'était une véritable déclaration d'amour de la part de la cuisinière.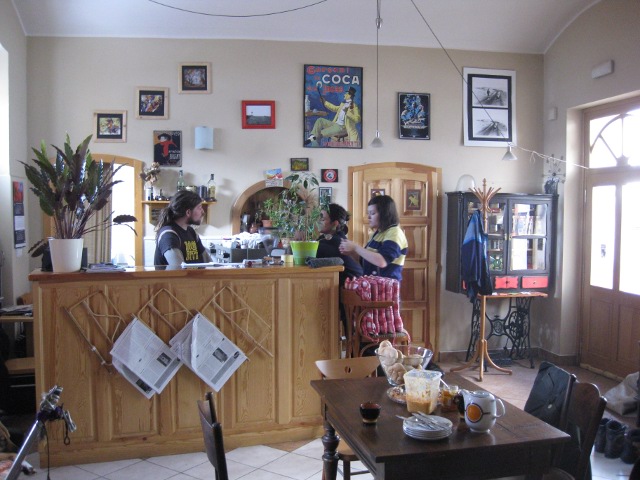 Day 4 : Très bon petit déjeuner. Nous avons droit à une gâteau typiquement tchèque : base briochée, puis nappage en cercle (crème de pruneaux, crème pâtissière, crème noissette / caramel mou, etc).
Nous allons ensuite à Cesky Tesin, les autres boivent de la bière, mais moi j'ai trop faim alors je me prends un Coca. Cette ville touche la Pologne, nous traversons la frontière à pieds pour aller manger chez Marta, la copine de l'organisateur du concert, Ondra. Très bon goulasch bien épicé comme il faut, j'en reprends deux fois, mais j'ai quand même faim après le concert. En plus, j'ai picolé pleins de bières, Ondra nous a payé d'une espèce de vodka rose au pamplemousse, puis d'un truc super fort aux herbes, du coup j'ai vomi et du coup j'avais encore plus faim après.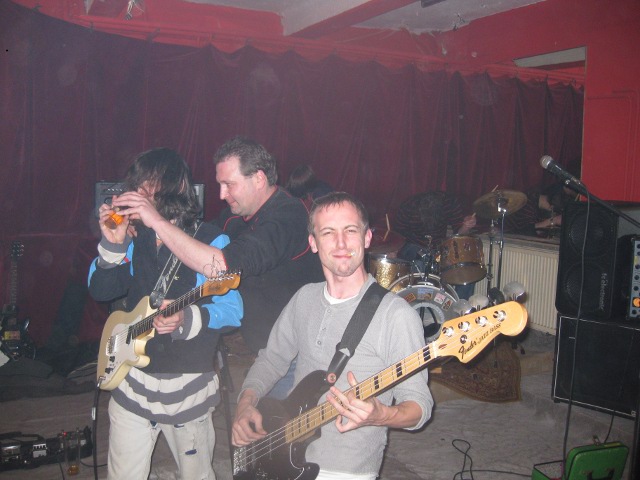 Day 5 : Ondra nous prépare un petit thé, puis nous allons acheter des sortes de gâteaux fourrés à la figue, aux pommes et au chocolat pour les manger sur le chemin de Auschwitz. J'ai bu un litre de Kofola, le coca local. Au parking du camp y'avait une pizzeria et un vendeur de hot dogs, ça m'a bien fait envie, mais Pascal a commencé à s'énerver, alors j'ai renoncé. Pourtant les touristes italiens, ils avaient l'air contents de sortir de Auschwitz avec un hot dog. Tana me sort de ce bourbier en me parlant de math et de physique pendant toute la visite du camp. En rentrant à Cesky Tesin nous allons acheter des pizzas. Moi, c'est salami, bacon, oeuf, champignon, fromage. Presque tous les animaux de la terre sont représentés sur ma pizza.
Arrivée à Brno, j'ai faim. Du coup, je me fais servir des pintes de Kofola par Andrea, je m'en envoie deux ou trois je crois. Très bon goulasch après le concert, toujours bien épicé.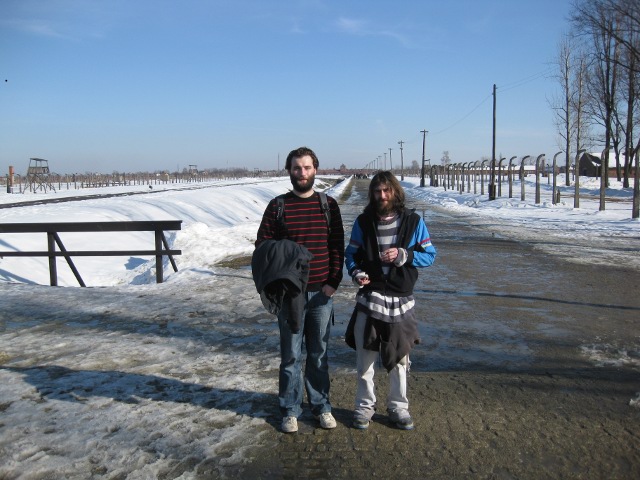 Day 6 : Au petit déjeuner, nous avons droit à des baguettes pré-cuites. Je m'en enfile presque une entière.
Nous partons pour l'Allemagne, y'a un peu de route et j'ai faim. Heureusement, un gâteau au chocolat nous attend pour notre arrivée à Neugersdorf. Puis, place à une énorme bouffe vegan avec : lasagnes, pommes de terre au four, salade, riz, tofu aux champignons, etc. Après le concert je suis retourné prendre des parts de gâteau et de lasagnes.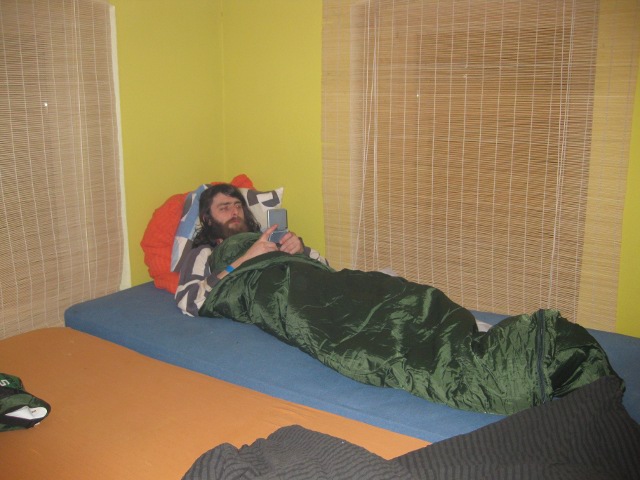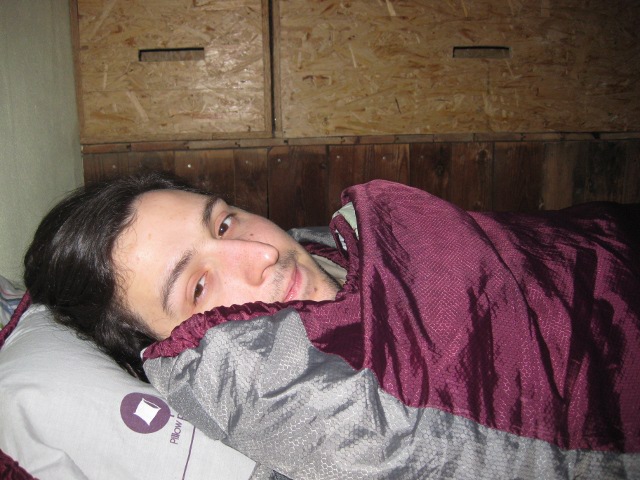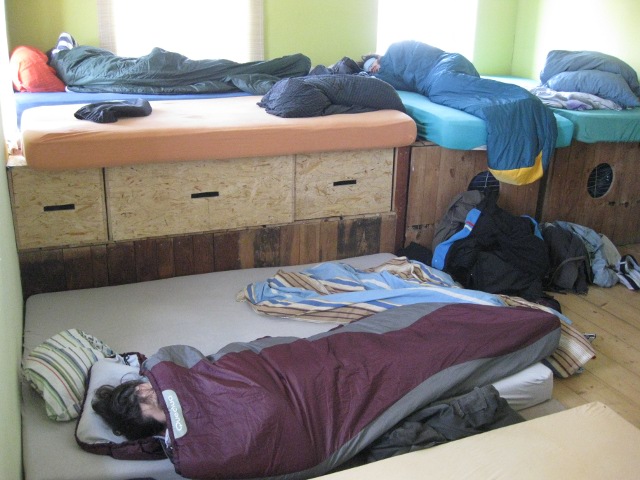 Day 7 : Petit déjeuner trop mortel. Pâtes à tartiner maison : chocolat, tomate, etc.
Arrivée à Potsdam, au Black Fleck, des supers grattins nous attendent dans le four. Je voulais en reprendre après le concert mais Pascal avait déjà tout mangé. Tant pis. Du coup, j'ai bu pleins de « Cola », le coca de l'allemagne de l'est.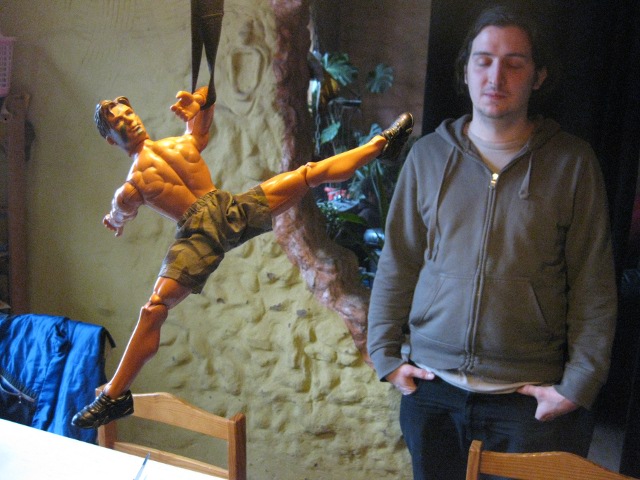 Day 8 : Très bon petit déjeuner avec abondance de crudités, Brötchen, fromage, etc.
Nous prenons la route pour Berlin. Avant d'aller faire la balance, je suis allé me choper une wurst avec Jojo. C'est les 20 ans du Köpi, qui dit 20 ans, dit grosse bouffe : panés de polenta, lentilles, salade, etc. Le tout était très bon, mais un peu léger pour les 20 ans d'un lieu. En plus, j'ai voulu en reprendre, mais y'avait plus rien. Du coup, j'ai voulu aller me choper une wurst, mais si je sortais il fallait que je fasse la queue une heure et demie comme tout le monde pour rentrer. J'allais pas me laisser abattre, alors je suis allé piquer des petits fours dans un genre de vernissage où je faisais semblant de m'intéresser à ce qui était exposé. Pas mal. Ensuite, j'ai carburé au Club Maté toute la soirée, je devais avoir bu l'équivalent de 20 cafés au moment de jouer. C'était en fait un clin d'œil au thème de la soirée.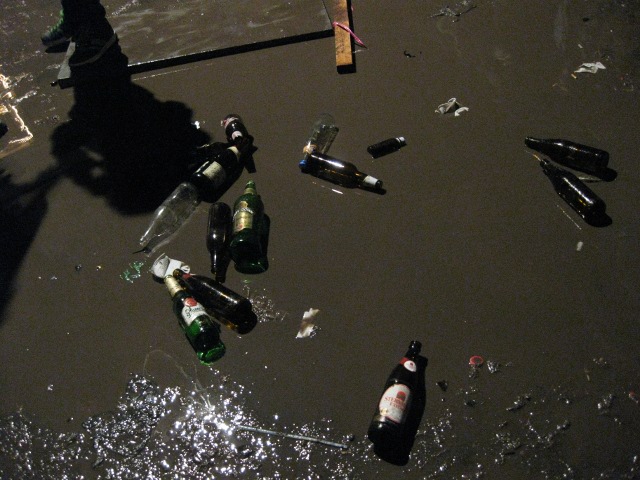 Day 9 : 13h, le petit déjeuner n'est toujours pas prêt. Ça commence à bien faire ces 20 ans… Je vais donc me choper un döner et un Fanta vers Alexander Platz. J'ai même pas remarqué la statue de Marx et Engels, moins visible que l'enseigne qui brille du Burger King. En revenant au Köpi, le petit déjeuner est prêt, mais payant, même pour les groupes. J'hésite longuement, mais nous devons partir. On s'arrête à l'atelier de sérigraphie de Damien de Grand Prédateur, ça ne m'intéresse pas trop parce qu'il n'y a rien à manger.
Au Zoro, à Leipzig, ils savent me parler. Ça c'était de la bouffe, mec. Indescriptible tellement c'était bon. 100% vegan. J'en ai repris autant que j'ai pu et c'est là qu'ils ont ramené le gâteau. J'avais peur que tout le monde le finisse alors je me suis forcé à en prendre tout de suite une grosse part.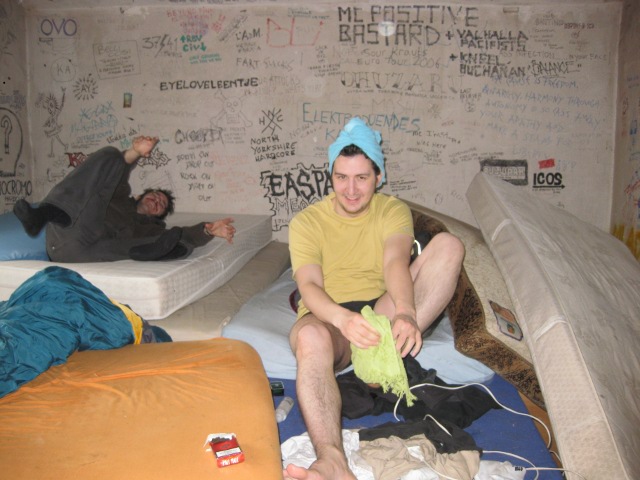 Day 10 : Rebelotte au petit déjeuner, mortel. Crudités, tofu grillé, seitan épicé, etc. Comme on restait une journée de plus, ils nous ont laissé les restes, nickel.
On nous a indiqué un fast food vegan. Cette opportunité ne pouvait pas me glisser entre les doigts. J'ai pris un burger au seitan avec patate de légumes, des frites et un Dr Pepper.
Day 11 : On finit donc les restes avant de partir pour Bruxelles. Y'a pas mal de route, et j'ai faim assez rapidement. J'ai trop faim, alors, en arrivant à Bruxelles, j'arrive à convaincre Tana et Jojo que même si la bouffe pour les groupes arrive dans une demie-heure il faut absolument aller chercher quelque chose à manger. La bouffe pour les groupes est prête quand nous revenons. Grande salade de pâtes avec du tofu et des légumes. Ça me fait un complément non négligeable.
Day 12 : Petit déjeuner chez Antonin avec Olivier Binam'. Du coup, je n'ose pas me goinfrer. J'ai faim, c'est chaud. En rentrant à Gagny, j'ai juste le temps de manger un bout avant d'aller vers mon examen de physique. Au concert au Chiquito, tout le monde me dit que j'ai bonne mine. Tu m'étonnes, t'as vu ce que je me suis envoyé ?
Boris
******************************************************************************
Hey everybody,
We are back from this really great tour. We met very good people, we saw inspiring places, played really good shows. Hopefully this won't be the last one.
Thanks to all of those who went to our shows, to the people that helped us out and special thanks to Alex that helped us out to find those wonderfull gigs.
Next Louise Mitchels shows :
17 mars – Paris – Le Chiquito – w/ Auxes.
19 mars – Le Mans – w/ Gentle Veincut & Mobylette Facile
21 avril – Paris – w/ John Makay, Grand Prédateur & Warsaw Was Raw
and now, i know you guys are waiting for it
The tour report, by Bobo :
Day 1 : I forgot to make my usual list so my mom was going to get a lot of sugery stuff before i leave for tour. Too bad, but i took what was left in the kitchen, some filled cookies, that should be fine. Pascal cooked a pasta salad for the trip, pretty good. We arrive in Franfurt at Oli's mom who cooked us some Crotian specialities. That was incredibly good. There's a big cake, i take it twice and drink a lot of coffee so i don't choke with the cake.
Day 2 : Breakfast at Oli's mom. Lots of pork stuff. The baguettes had the taste of Brötchen. I couldn't eat as much as i wanted but, i was lucky, Oli's mom made us some sandwiches she packed in a plastic bad with some notes.
We spend the afternoon in Würzburg, and surprisingly, i'm not that hungry. That's perfect timing because Charlie, our promoter, a very nice prog fan, ordered some indian food after the show. Perfect.
Day 3 : Breakfast at the youth hostel next to a black metal band that didn't seem friendly at all. They were very pale, you can see they should eat more.
There was free refils of Nutella. I had 100 grammes of it. Pretty good. I took some to go as motivation to work my physics exams. Tana is helping me out while Jojo and Pascal think this is all « surrealistic » when they hear us talking about maths and physics.
We get in CZ. I'm hungry. We stop in Prague and we go get a slice of pizza with Jojo. Then we go to Hořice. I'm still hungry. Yeah, here comes the food, pasta and spinach with a cheese topping. For the dessert we get a heart shapped chocolate cake. I have to say this was a love statement from the baker.
Day 4 : Very good breakfast. We had a very typical czech cake. Hard to describe in english.
Then we went to Cesky Tesin. The others drink beer, but i'm too hungry so i get a coke. That city is next to the Polish border. We are crossing the border to go eat at Marta's, the girlfriend of our promoter, Ondra. Very good Goulasch, very well spiced. I take it twice but i'm still hungry after the show. And, i had a lot of beer + Ondra paid us some pink vodka + some strong alcohol with herbs, so puked, so i was even more hungry afterwards.
Day 5 : Ondra is making us some tea and then we go get some cakes filled with fig, apple and chocolate. I want to eat them on the way to Auschwitz. I had a litre of Kofola, the local Coke. At the camp's parking lot there is a pizza place and a hot dog place too. I really wanted to get some but Pascal got mad and i gave up on that idea. But i have to say that the italian tourists seemed very happy to get out of Auschwitz eating a hot dog. Tana is helping me out to forget that i'm hungry talking to me about maths and physics while we were visiting the camp. Coming back to Cesky Tesin, we go get some pizzas. Mine includes salami, bacon, eggs, mushrooms, cheese. Almost all the animals of the earth are present on that pizza.
We get in Brno, I'm starving. So Andrea is serving me some pints of Kofola. I get 2 or 3 i think. Very good Goulasch after the show, very well spiced again.
Day 6 : We get baguettes for breakfast. I eat one by myself.
We go to eastern Germany. The trip is a little long and i'm hungry. I'm lucky, a chocolate cake is waiting for our arriving in Neugersdorf. Then, they serve an enormous vegan buffet with : lasagna, hoven cooked potatoes, salad, rice, tofu and mushrooms, etc. After the show i had some lasagna and cake again.
Day 7 : Awesome breakfast. Home made pastes : chocolate, tomato, etc.
We get in Potsdam at the Black Fleck. Some very good food with cheese topping is waiting for us. I wanted to eat some more after the show but Pascal already ate everything. Too bad. So i had a lot of « Cola » the DDR Coke.
Day 8 : Very good breakfast with vegetables, Brötchen, cheese, etc.
We take the road for Berlin. Before do the soundcheck, i went outside to get a wurst with Jojo. This is the 20th anniversary of the Köpi, which means awesome food : polenta steaks, lentils, salad, ect. Very good but a little light for a 20th anniversary. I wanted to get more but there was nothing left. So i thought about getting a wurst outside the venue, but there was a line of an hour and a half to get back in. I wasn't going to give up so i found that sort of opening art or whatever and ate everything i could there while i was acting like i was interested by the exhibition. Then i had Club Maté all night, which was like drinking 20 coffee before playing. It was some kind of tribute to the Köpi.
Day 9 : 1pm, breakfast is still not ready. I'm getting bored of this 20th anniversary… So i went to get a Döner and a Fanta around Alexander Platz. I didn't even notice the Marx & Engels statue, less visible than the shiny Burger King neon sign. I got back at the Köpi, the breakfast was ready but even bands had to pay for it. I was hesitating for a long time but then we had to go. We stop by Damien's screenprinting workshop. There is nothing to eat so it doesn't interest me that much.
At the Zoro, in Leipzig, that's a real deal. That was food, dude. The best you can think of. 100% vegan. I had as much as i could and that's when they brought the cake. I was scared of the others eating the whole thing so i forced myself to get a big piece of it right away.
Day 10 : Again, the breakfast was so great. Vegetable, grilled tofu, spiced seitan, etc. We had a day off in Leipzig so they left us the leftover. Perfect.
We've heard about that vegan fast food restaurant. I couldn't miss that opportunity. I had a seitan burger with vegetables, fries and a Dr Pepper.
Day 11 : We ate the leftover before leaving for Bruxelles. That's a long trip, and i get quickly hungry. I'm starving. When we got in bruxelles i got to convince Tana and Jojo that while the food for the bands was going to get here in half an hour, it was really necessary to go get some food before. The food for the bands was ready when we got back. A big pasta salad with tofu and vegetables.
Day 12 : Breakfast at Antonin's with Olivier from René Binamé. So, i don't feel like eating like i usually do. I'm starving, fuck, man. When i got back in Gagny i just had the time to have a snack before going to my physics exam. When we play in Paris that night, everybody say i look good. No joke buddy, ya see everything i ate ?
Boris
****************************************************************************