Vous trouverez dans cette section les imports et les rééditions. Ces disques sont pour la plupart commandés auprès de Mississippi Records à Portland et Chicago.
Précision pour les distros : je ne fais pas d'échanges avec ces disques, et ne peux pas faire de prix de gros.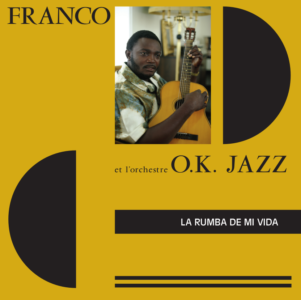 FRANCO & L'ORCHESTRE O.K. JAZZ – La Rumba De Mi Vida – 2xLP – 22 € (STREAM)
This new compilation 'La Rumba de mi Vida' displays the full extent to which O.K. Jazz and its bandleader Franco explored Congolese rumba in the sixties and early seventies. Each of the four sides on this double LP presents a different facet of O.K. Jazz. The songs presented on this album justify why Franco was (and still is) regarded as the greatest portraitist of Congolese society.
Side A presents tracks published in the early seventies on Franco's label Editions Populaires. This was a period in which Franco took full control over the orchestra and was integrating a new sound into the band such as the return of the acoustic guitar and collaborations with artists from the first generation of Congolese rumba such as Manuel d'Oliveira and Camille Feruzi. Side B includes some of the first recordings O.K. Jazz made abroad, when the band went to Brussels in the early sixties to record for the Surboum African Jazz label. Side C features five charming covers that O.K. Jazz did, mostly of Cuban artists. Side D shows the band's sensitivity for composing songs firmly rooted in the vast universe of Congolese folklore, and for writing lyrics in languages other than Lingala, Kinshasa's lingua franca.
Almost all of the 23 titles on this compilation have not been re-released previously and were restored and remastered from the original 45 rpm or 78 rpm release. This release would not have been possible without the precious help from many connaisseurs and collectors of Congolese rumba. A special mention goes to Stefan Werdekker, Hama-Dinga Ya Makilo and Samuel Malonga for their kind assistance during my research.
DEATH – III – LP – 20 € (STREAM)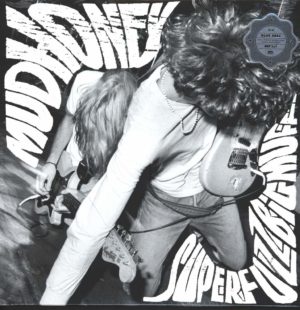 MUDHONEY – Superfuzz Bigmuff – Maxi 45 tours – 12 €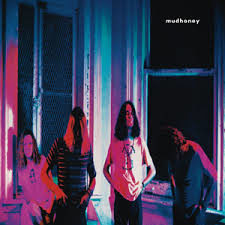 MUDHONEY – LP – 15 €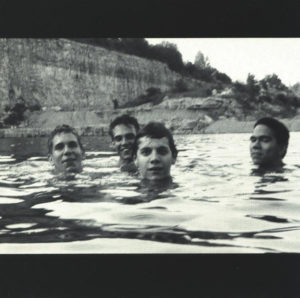 SLINT – Spiderland – LP – 14 €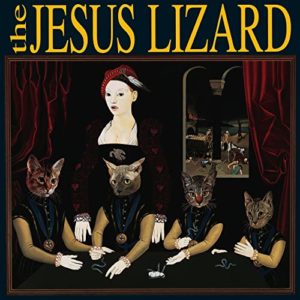 THE JESUS LIZARD – Liar – LP – 20 €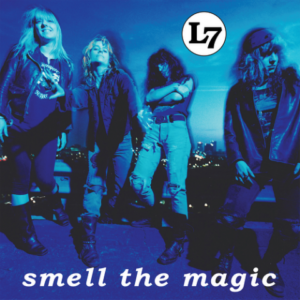 L7 – Smell the Magic – LP – 15 €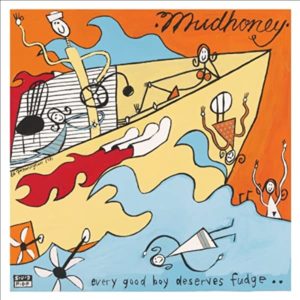 MUDHONEY – Every Good Boy Deserves Fudge – LP – 15 €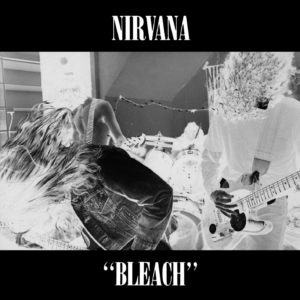 NIRVANA – Bleach – LP – 15 €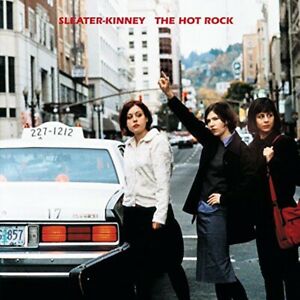 SLEATER-KINNEY – The Hot Rock – LP – 15 €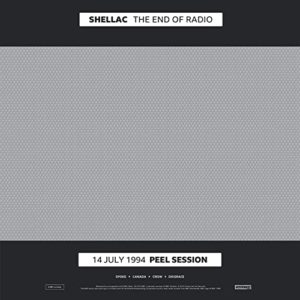 SHELLAC – The End of Radio – 2xLP + CD – 30 € (STREAM)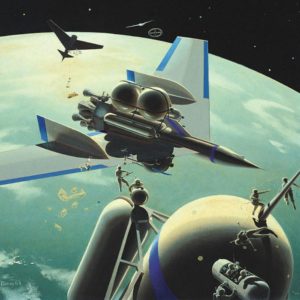 SHELLAC – Terraform – LP – 24 € (STREAM)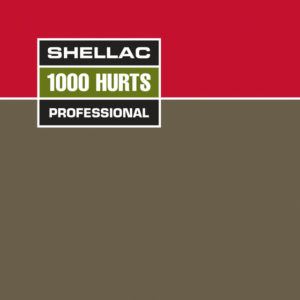 SHELLAC – 1000 Hurts – LP + CD – 24 € (STREAM)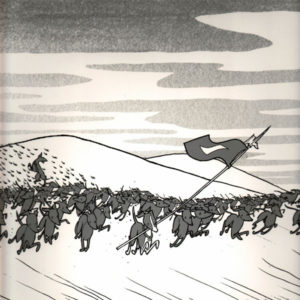 SHELLAC – Excellent Italian Greyhound – LP – 20 € (STREAM)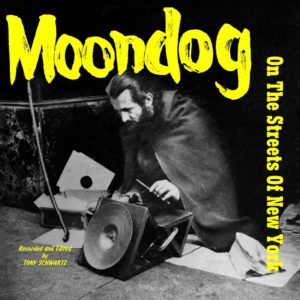 MOONDOG – On the Streets of New York – LP – 18 € (STREAM)
ELIZABETH COTTEN / MARISA ANDERSON – Split 7 » – 8 euros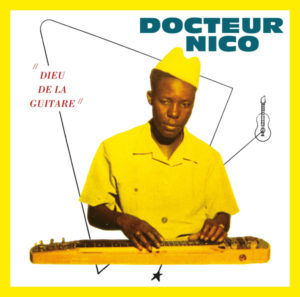 DOCTEUR NICO – Dieu de la guitare – 2xLP – 25 euros (STREAM)
The Congo has given us many excellent guitar players, but only one of them earned the nickname 'Dieu de la Guitare'. With this new compilation, made in collaboration with Ignace Mukendi (Comite de gestion des œuvres musicales de Docteur Nico) and the children of Docteur Nico, Planet Ilunga recalls the life and musical career of the legendary Congolese guitar player and band leader Docteur Nico.
Nicolas Kasanda wa Mikalayi stood for over 20 years at the forefront of Congolese rumba. Backed through his whole career by his older brother Dechaud, Nico introduced numerous innovations to Congolese rumba such as a remarkable take on Dominican merengue, the use of the Hawaiian guitar, the introduction of new rhythms and dances such as the kiri-kiri and kono, and especially the shimmering, electrified modern versions of traditional tunes from his native Kasai.
Thirty-three years after his death, we remember him as the most gifted guitar soloist of Congo. In this anthology we present an original selection of 26 exquisite songs, made between 1954 and 1970 with the groups African Jazz, Rock-a-Mambo, African Jazz Aile Nico, African Fiesta and African Fiesta Sukisa, many of them reproduced for the first time and mostly taken from the original 78 rpm or 45 rpm shellac/vinyl.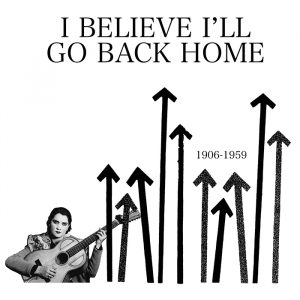 V/A – I Believe I'll Go Back Home LP – 12 euros

A sequel (of sorts) to the « I Don't Feel At Home In this World Anymore » compilation. Features the stone cold beautiful African guitar playing and singing of Sabelo and G. Wayawaya, the intense Native American country music of Jenks « Tex » Carman, the great Tex Mex of Lydia Mendoza, the heavy hypnotic Cajun sounds of Amede Ardion and Dennis McGee, the shimmeringly beautiful singing and playing of the Genial Hawaiians, the deep deep deep Rembetika of Marika Papagika, the soulful gospel of Blind Willie Davis, the sacred Indian sounds of T.R Mahalingham and Khansahib Abdul Karim Khan, the early Jewish mysticism of Max Leibowitz, the dark Cuban rumbles of Sexteto Bologna and much more. Here we have a diverse cross section of the worlds music – a unifying sound during divisive times. Old school « tip on » cover.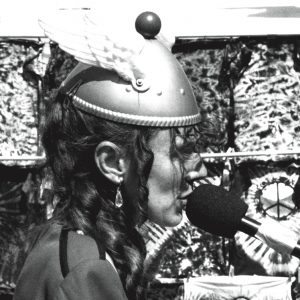 SPACE LADY – Greatest Hits LP – 14 euros (STREAM)

The Space Lady began her odyssey on the streets of San Francisco in the late 70s, playing versions of contemporary pop music on accordion and dressed flamboyantly, transmitting messages of peace and harmony. Following the theft of her accordion, The Space Lady invested in a then-new Casio keyboard, birthing an otherworldly new dimension to popular song that has captured the imagination of the world. Of her early street sets, only one recording was made, self-released originally on cassette and then transferred to a home-made CD. « The Space Lady's Greatest Hits » features the best of these recordings – mostly covers but with some originals and features archival photographs and liner notes from The Space Lady herself. "Greatest Hits" contains The Space Lady's personal favourites; her haunting take on The Electric Prunes' "I Had Too Much To Dream (Last Night)," a frantic "Ballroom Blitz" amidst other reconstructed pop music. Included are also 4 originals that easily match for the Pop canon. Old School « tip on » cover and fold out liners with poster for framing on one side and notes on the other. Limited edition of 1,000 copies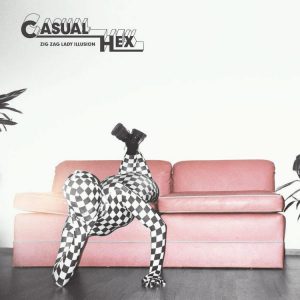 Casual Hex-Zig Zag Lady Illusion LP – 14 euros (STREAM)

Casual

Hex

is a three-piece formed in Seattle, WA, in 2015. Drawing influence from a variety of genres (post-punk, no-wave, noise rock), The band relies on the contrast of heavy, catchy, minimal, and dissonant. It's difficult to draw a direct lineage, but flashes of PYLON, THE CONTORTIONS or early SONIC YOUTH come to mind. Erica's voice is a commanding narration, stern in delivery. Lyrical content is heady and cryptic, encouraging the listener to question human behavior and inspire positive change. Clocking in at 21 minutes, Zig Zag Lady Illusion is as much of a full length as you're gonna get with most songs not even hitting the 2 minute mark. This is

Casual

Hex

's debut on Water Wing and their first effort to be pressed on vinyl. Limited to 300 copies.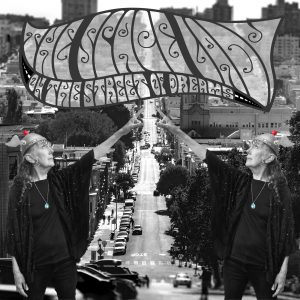 The Space Lady – On The Street OF Dreams LP – 13 euros (STREAM)
Brand new record by the legendary Space lady! The Space Lady started thrilling audiences as a street performer in the late 60's. She honed her craft through the years, creating her own completely unique style of pop music. She plays a casio keyboard with liberal amounts of echo and space effects and sings with as heavenly and sincere a voice as you will ever hear.
This is the Space Lady's master stroke LP – a survey of some of the songs that have served her great live over the years. Includes an amazing cover of William DeVaughn's « Be Thankful For What You Got » (that Gangsta lean song) that is sure to be the low rider hit of the summer.
The Space Lady is a true artist. If you listen with open ears, you will come out a better person for knowing her.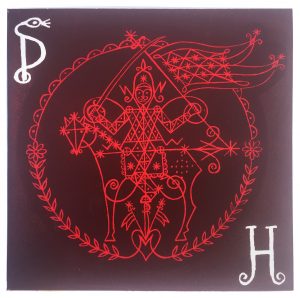 V/A – Divine Horsemen LP – 16 euros (STREAM)

Maya Deren journeyed to Haiti to make a film of ritual dances, instead, she came to be accepted as a Voudoun initiate, whose devotees commune with the cosmic powers through invocation, offerings, song and dance of the Voudoun pantheon of deities, or Loa, whom are witnessed as being living gods and goddesses, actually taking possession of their devotees. Deren describes the relationship between magic, science and religion bringing a uniquely lyrical voice to her narrative. This paints a multi-textured, infinitely complex portrait of a spiritual tradition with roots stretching back to the very dawn of humanity. Joseph Campbell calls Divine Horsemen "the most illuminating introduction that has yet been rendered to the whole marvel of the Haitian mysteries as 'facts of the mind.'" Included in this album are some of the first recordings ever made during religious ceremonies near Croix de Missions and Petionville featuring selections that serve as a soundtrack to the film she shot documenting Voodoo ceremonies and festivals conveying the incantatory power of the ritual drumming and singing. One can hear the sounds of nature while processions begin across the landscape further giving the effect of an audio memoir.
For the first time in almost 40 years, this long out-of-print cult classic is now available in a limited edition featuring a beautiful screen printed cover by Grant Corum, risograph insert with liner notes, original cover art by Teiji Ito and mastered for the first time by Timothy Stollenwerk.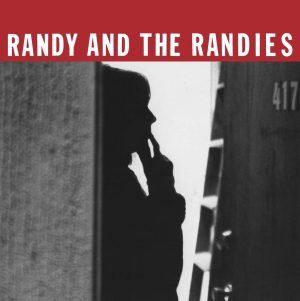 Randy And The Randie's – S/T LP – 16 euros (STREAM)
RANDY AND THE RANDIES, a garage punk band was originally formed in late 1979. They are of the Portland music lineage traced back through Jennifer to FORMICA AND THE BITCHES and the Neo Boys, becoming the strange little brother band to these more famous UNDERGROUND greats.They were privileged to be a part of the early PORTLAND DIY scene, and helped redefine what it meant to be in a band. With instruments provided by FRED & TOODY COLE, the same way many emerging outfits got their start, the band was off and running. Included in Mark Sten's book, ALL AGES: THE RISE AND FALL OF PORTLAND PUNK ROCK, 1977-1981; the band's original cassettes and 8-track recordings were recently remastered by MIKE LASTRA. And, in 2015, Jennifer Lobianco, along with her former band, Neo Boys, were inducted into the OREGON MUSIC HALL OF FAME.
The album was pressed locally at CASCADE RECORD PRESSING in a limited edition: 400 black vinyl, and 100 numbered-white vinyl.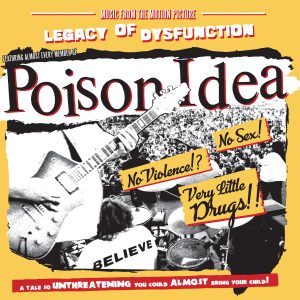 Poison Idea – Legacy Of Disfunction Soundtrack LP – 13 euros
You've seen the movie! Now here's the soundtrack! 'Legacy of Dysfunction' is a ride on the carousel to oblivion, as we time travel back and forth through over 35 years of Poison Idea's rip-snortin', high volume arsenal of hardcore classics (chronological song order, be damned!) All the hits are here. Tunes such as "Plastic Bomb" (Jerry A's Eastern-bloc stomp with that howling chorus), "Just To Get Away" and "Made To Be Broken" are on this record. 'Legacy of Dysfunction' also includes, never before heard, live and studio tracks. The live recordings are incredibly raw sounding (the opening track "Laughing Boy" is relentless), not unlike many of the live Stooges bootlegs released over the years on labels like Bomp! and Skydog. The unheard song 'Names and Numbers' is killer, plus bonuses such as the long out-of-print cover of the Wipers "Up Front" and excerpts of dialogue from the film, let you relive the experience again and again. Available on Vinyl
Chrissy Zebby Tembo & Ngozi Family – My Ancestors LP – 14 euros (STREAM)
Reissued many times before – this version has great remastered sound quality & a reasonable price tag! A truly incredible psychedelic African rock n' roll record. Blown out guitars, Black Sabbathesque heavy rhythms, garage rock sincere vocals. It's all here. One of the greatest rock records you may ever hear. One time small pressing not to be missed. Old school « tip on » cover.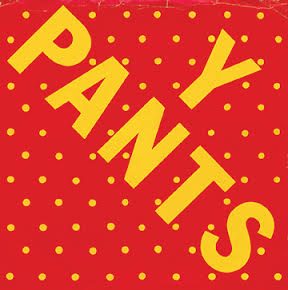 Y PANTS – LP – 14 euros (STREAM)

« Y PANTS was a three-woman New York band: BARBARA ESS, ViRGiNIA (VERGE) PIERSOL and GAIL VACHONS, all visual artists. They played in clubs, galleries and performance spaces between 1979 and 1982. They were "as idiosyncratic, edgy, minimal, wry and literate as post-punk no wave got. Furthermore, the fact that these were three ferocious and formidable females was not to be overlooked."—Wolfgang Staehle,
Gail found a toy piano on the street and started jamming with Barbara on the ukulele. When they were invited to play a few weeks later at TR3 (the short-lived but influential downtown NY music club), they electrified their instruments and recruited the neophyte drummer Verge for percussion on a children's drum set. Their first gig met with an unexpected wildly enthusiastic reception. The instrumentation was then rounded out with Barbara's bass (former bands Daily Life and The Static), an African thumb drum, and a Casio keyboard for Gail. Verge's initial Mickey Mouse toy kit soon fell apart and she cobbled together a modest trap set. They gained a following and soon recorded a four song EP produced by Glenn Branca for 99 Records. They often shared the stage with label mates the Bush Tetras, ESG, Liquid Liquid, Branca and other NYC "downtown" bands. This release includes their four-song debut EP and two songs never before available on vinyl: Magnetic Attraction (previously released on Tellus Audio Cassette), and the mysterious Kung Fu. In a NY Times review, John Rockwell wrote"…what really makes Y Pants a success is the actual sound of the instrumentals—raw and driving yet exotic and imaginative in terms of timbre and minimalist structure."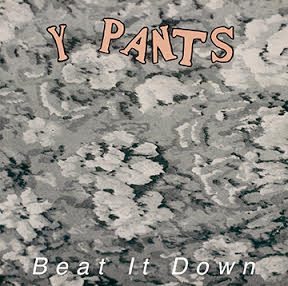 Y PANTS – Beat it Down – LP – 14 euros (STREAM)

After the success of their debut EP, post-punk art rockers Y PANTS performed regularly in NYC and other East Coast venues. In 1981 they toured Europe for six weeks and upon return went into the studio to record their only LP, Beat It Down, released in 1982 on Neutral Records (Sonic Youth, Glenn Branca et al). The album extends the band's signature pared down rollicking minimalism. The 10 songs are varied, using surprising and inventive instrumentation. The music is at once filled with a sense of longing and a fierce ironic rebellion. With exuberant precision they brandish their "toy" instruments and plaintive vocals in emotive expressions of female resistance. In dustedmagazine.com, Seth Watter wrote of the album, "I love the sprightly keyboards of 'The Fly,' the gentle lyricism of 'Lulu,' the anger of 'Beat It Down' that comes through in the music's shambling, atonal jangle. The songs covered a huge range of emotions with an entirely new syntax."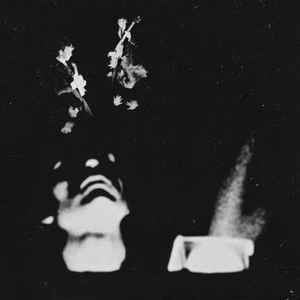 V/A – Anxious Color LP – 12 euros

Amazing compilation of basement and garage dwelling stranger than fiction psych rock recorded between 1966 and 1967. The real underground sound of the 1960's as you've probably never heard it before. People making music by their own rules and influenced more by the spirit realm and the heavy weight of being alive than the pedestrian drug experiences that informed much of the 60's popular music. A bit dark and a bit intense and a bit lo-fi but such is life. Trust us when we say this one is essential. .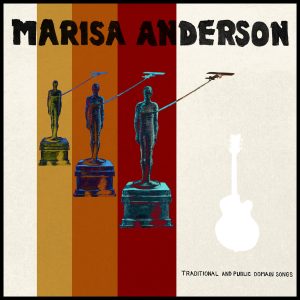 Marisa Anderson – Traditional and Public Domain Songs LP – 12 euros (STREAM)

Originally released on Grapefruit records in a idiotically limited edition, reissued here with new tracks. Marisa Anderson continues her streak of amazing solo guitar LP's. On first glance of the track listing you may feel like you've heard it all before – classic folk songs and anthems – but trust me, Marisa takes these tunes to places they have never been. The vibe is heavy on this one. The guitar playing is beautiful at points and intense at others. Not for the faint of heart. Comes with liner notes writen by Marisa herself!
O.K. JAZZ – The Loningisa Years 1956-1961 – 2xLP – 23 euros (EXTRAIT)
With this new compilation Planet Ilunga goes back to the very early days of O.K. Jazz, founded in 1956 in Léopoldville and disbanded in 1993. During the late fifties O.K. Jazz was the home of outstanding musicians such as Franco, Vicky, De La Lune, Edo Nganga, Dessoin, Kouka Celestin, Isaac, Brazzos, Mujos and many others. Together they created an unique and hair-raising take on rumba, cha-cha-cha, calypso, merengue and the band's favourite rhythm: the bolero
From June 1956 to August 1961 the band recorded 320 tracks for the 78 rpm music label Loningisa. Despite earlier efforts from labels such as Crammed Disc, RetroAfric and African (thank you!), there is still a large part of the Loningisa back catalogue that remains hidden from the public. That's why Planet Ilunga associated with Yves Luambo Emongo (son of Franco) and Julien Rocky Longomba (son of Vicky) and compiled 32 O.K. Jazz songs that were recorded between 1956 and 1961.
All songs on this compilation were originally released on 78 rpm records on the Loningisa label and most of the selected tracks were never reproduced after their original release. I tried to construct a tracklist consisting of different composers and different genres to show the diversity of this great band. Planet Ilunga collaborated for this release with a few 78 rpm collectors. I would once again like to thank them for sharing their rare records.
* 2LP vinyl: 32 tracks (total running time: 93:25)
* Comes with a 40-page booklet (in English) with lyrics in Lingala, lots of pictures and a closer look to this terrific band
* Full artwork gatefold album cover by Miadana Aurélia
* 180 gram vinyl
* Restored and remastered tracks
* Limited and numbered to 500 copies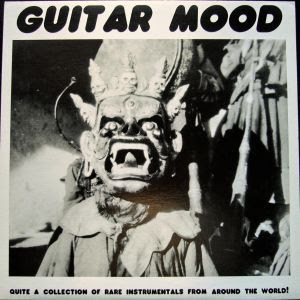 V/A-GUITAR MOOD LP – 12 euros (STREAM)

First ever repress of the most mystical collection of rare and moody, early 1960's guitar instrumentals from around the world! Features 16 tracks of pure instrumental delight and strangeness from TAKESHI TERAUCHI & HIS BLUE JEANS (Japan), LOS RELAMPAGOS (Spain), LES GUITARES (France), THE TRONICS (USA), LES FRANGINS (Belgium), THE JOKERS (Belgium), ELECTRIC JOHNNY & HIS SKYROCKETS (Holland), and TIMEBREAKERS (Holland & Java).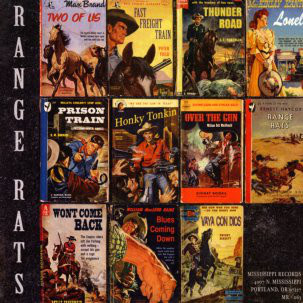 Range Rats – S/T LP – 13 euros (STREAM)

Fred and Toody Cole's (from Dead Moon, the Rats etc) country band recordings from 1987! Great raw and rugged rocking' country tunes recording during the break between the Rats and Dead Moon. Most songs with full band accompaniment, but two songs at the end with guitar, bass and an off kilter drum machine named « Rolly ». Great lost recordings not to be missed.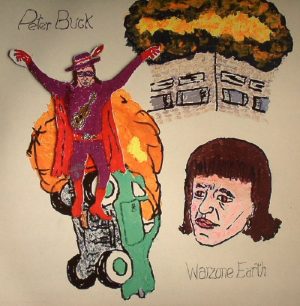 Peter Buck – Warzone Earth LP – 10 euros (STREAM)

New LP from Peter Buck! Steeped deep in the roots of Garage rock, Peter's third solo record rolls out strong. Some dark and personal lyrics and some heavy vibes preside….but overall – it's rock and roll. Features musicians from all kinds of beloved bands and lineages. (Scott McCaughey, Bill Rieflin, Kurt Bloch, Chris Slusarenko, Krist Novoselic, Jeff Tweedy, Annalisa Tornfelt, Chloe Johnson, Kristin Tornfelt…..yep).
Record comes in two different cover editions – both designed by none other than Mingering Mike – maybe the greatest album cover designer of all time! (the majority of his artwork was recently bought in whole by the Smithsonian). Comes with liner note insert.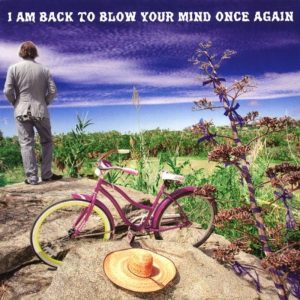 Peter Buck – I Am Back To Blow Your Mind Once Again LP – 10 euros (STREAM)

Peter Buck of REM, Baseball Project, Minus Five, and a million other projects fame is back with a new set of rock and roll. All done the old fashioned way – direct tape cut to lathe cut to vinyl. This time around we have everything from garage rock to psychedelic soundscapes to pretty ballads. All new tunes that will treat you right.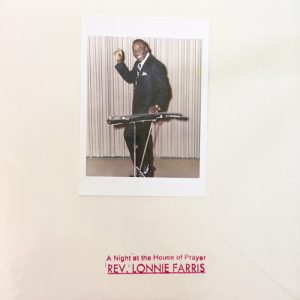 Rev. Lonnie Farris: A Night at the House of Prayer' LP – 16 euros (STREAM)
All music culled from small artist-run label 45s issued in the 1960s.
Absolutely sublime gospel, from stomp to ethereal jams and back again,
and all starring Farris' killer slide guitar. Hand stamped covers,
each unique, edition of 450.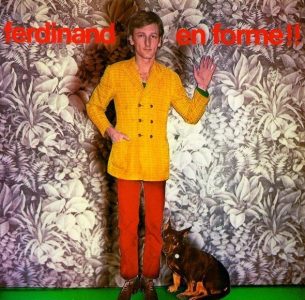 FERDINAND RICHARD – En forme ! – LP – 12 euros (STREAM)

Hilarant et incroyable projet du chanteur d'Etron Fou Leloublan !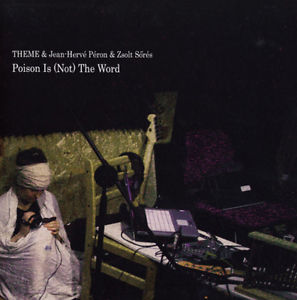 THEME & Jean Hervé Pérou & Zsolt Sorés – Poison Is (Not) The Word – LP – 12 euros (STREAM)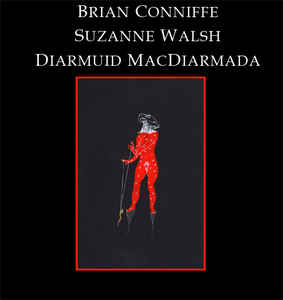 BRIAN CONNIFFE / SUZANNE WALSH / DIARMUID MACDIARMADA – LP – 12 euros (STREAM)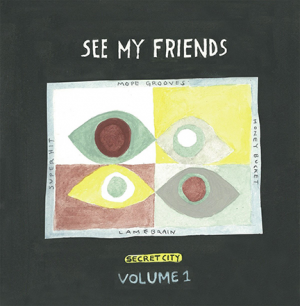 V/A – See My Friends Comp. – Secret City Volume 1 LP – 12 euros

In an effort to support some local bands who loom large in the Portland musical waters, Mississippi is offering some local modern weirdness for distribution for a limited time.
Pop document of 4 PDX bands. Independently and collaboratively written, recorded, and assembled in rapidly gentrifying inner SE PDX, wherein despite old-guard punditry and escalating defections to New York and Los Angeles music continues to not be extinct, flourishing here and elsewhere as of press time February 2016. Featuring two tracks each from MOPE GROOVES, HONEY BUCKET, SUPER HIT, and LAMEBRAIN.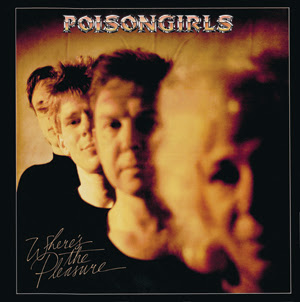 Poison Girls -« Where's the Pleasure » LP – 14 euros (STREAM)

First released in September 1982 on their own Xntrix Records label, 'Where's The Pleasure' was described by Johnny Waller in the magazine Sounds as « The last great punk record ». The record came out of a period of change for Poison Girls. A new house, a new bass player, a completely new set, and, with it, a determination to challenge the expectations of their audience. What resulted is an outstanding collection of songs. Vi Subversa's lyrics seamlessly make the personal political, and the political relevant to everyday life. The music bristles with inventiveness. What we hear is a band at the top of their game, exploring different styles and enjoying themselves in the process. It is Poison Girls flexing their musical muscles, rediscovering their roots, and connecting with the true spirit of punk, which is of course, unbridled, messy and adventurous creativity. 'Where's The Pleasure' is a truly wonderful achievement by a truly unique band. LIMITED TO 1000 COPIES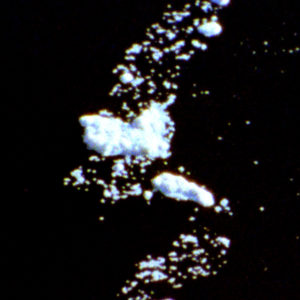 Crystal Myslajek -« Circadia » LP – 14 euros (STREAM)

Captured in the depth of a Minnesota winter in a room equipped with two grand pianos, Crystal Myslajek produced the six track opus that is Circadia. Circadia is a contemplative, intuitive and luminous album of slowly unfurling arrangements for piano, voice, bass, drums and modular synthesizer. Myslajek (formerly of ethereal art-rock trio BRUTE HEART) is a Minneapolis-based performer and composer. Her compositions blend haunting vocals with minimalist classical piano, punctuated by bowed and plucked double bass, and sparse percussion. The sweeps and tones of a modular synthesizer articulates the colors already present in this modern achievement of musical production. Featuring Liz Draper (double bass), Chris Hepola (percussion and piano), and John Marks (modular synthesizer).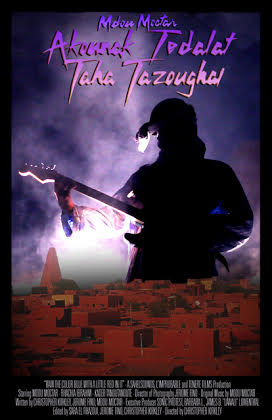 Akounak Tedalat Taha Tazoughai – DVD – 15 euros (TRAILER)
The first ever Tuareg language fictional film, based on the legendary rock-u-drama "Purple Rain," Akounak explores the world of a musician trying to succeed in the raucous subculture of the Niger guitar scene. The protagonist, real life musician Mdou Moctar, must battle fierce competition from jealous musicians, overcome family conflicts, endure the trials of love, and overcome his biggest rival – himself. Carried by stunning musical performances from Mdou, the film is a window into modern day Tuareg guitar and an experiment in participatory ethnographic filmmaking. In Tamashek with English and French subtitles; 75 minutes, all region DVD, NTSC format. Limited edition of 1000 copies.
V/A-Fanafody LP – 10 euros
The second volume of recordings in our series of Madagascar music. From the archives of Montreal recordist, Charlie Brooks. While containing some similar artists as volume one, Fanafody focuses more on his second trip through the island during 2002 featuring violin players and throat breathing singers. Includes extensive photography and liner notes booklet.
NEO BOYS – Sooner or Later – 2xLP (coprod Mississippi & K Records) – 16 euros (stream)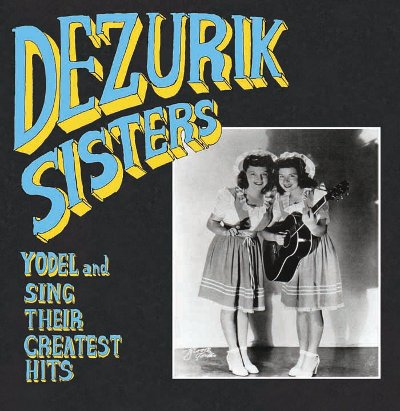 MRP – 062 DeZurik Sisters – Sing and Yodel Their Greatest Hits LP – 13 euros
(
STREAM
)
The Dezurik Sisters (Also known as the Cackle Sisters) were Carolyn and Mary Jane Dezurik – two absolutely amazing sisters with soaring voices that must be heard to be believed. Here we have the first ever LP of tracks by these two incredible entertainers. The ladies sing, yodel and cackle some of the most impressively acrobatic vocal performances you will likely ever hear in your life. Beautiful and novel country tunes to warm your heart and make you feel alright. This LP contains the only 3 78's released by the Dezurik's as well as selections from their radio broadcasts as the Cackle Sisters. A great unsung but important chapter in the history of country music. Old school « tip on » cover and liner notes with archival photos and interviews.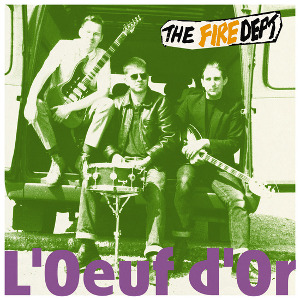 The Fire Dept – L'Oeuf D'or LP – 14 euros (EXTRAIT)
Fire Dept (out of Cambridge) burn it down on both sides of this (their debut) album, lost in time and packed with ace songwriting, molten guitar playing, and covers of bands that are still unknown to squares in this so-called sophisticated age which we now find ourselves. Recorded at Toerag, produced by Billy Childish (who also did the sleeve art), and issued on his Hangman's Daughter label in 1995. All hail Fire Dept. Reissued in close collaboration with Billy Childish, Neil Palmer and Damaged Goods Records. Limited edition of 500 copies.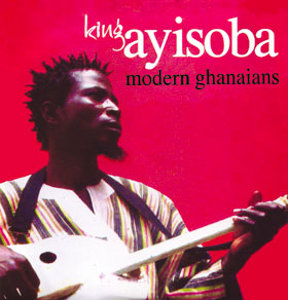 KING AYISOBA – Modern Ghanaians – LP – 12 euros (EXTRAIT)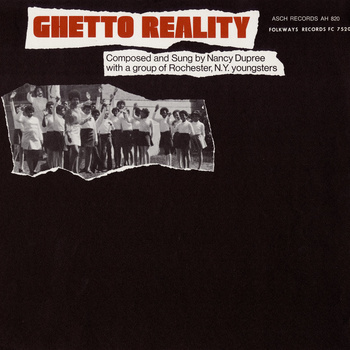 NANCY DUPREE – Ghetto Reality – LP – 13 euros (STREAM)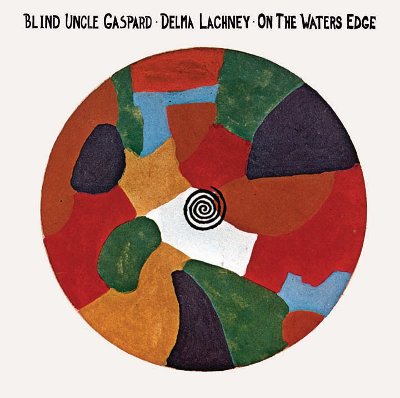 MRP – 069 Blind Uncle Gaspard and Delma Lachney – On The Waters Edge LP – 12 euros
(
STREAM
)
12 great songs recorded by two of Cajun musics finest and most unusual artists – Blind Uncle Gaspard and Delma Lachney. All songs originally released on 78 in the late 1920's. Fragile and dignified performances with French vocals accompanied by guitar or fiddle or sometimes both. Impeccable ballads and breakdowns. Old school 'tip on » cover.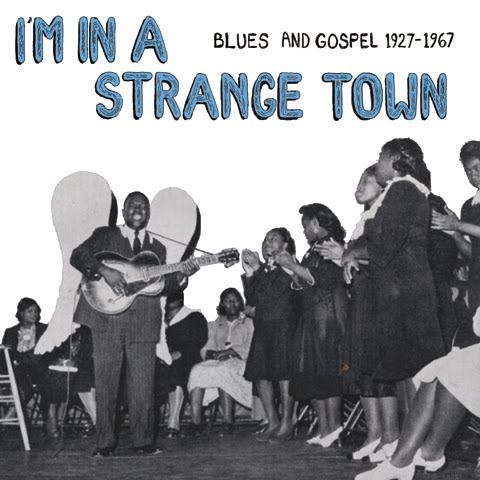 V/A – I'm In A Strange Town – LP – 12 euros
Compilation of top notch Gospel and blues recorded between 1927 and 1967. A mix of very well known artists such as Blind Lemon Jefferson, Gary Davis and Robert Wilkins and more obscure folks like John Lee and Charles White. A record filled with some of Mississippi Records favorite recordings – ripping guitar work outs, soulful ballads, loping drunken jug bands and more. All songs are on the theme of travel, death and transcendence. Got an existential crisis? This may be the record for you.
SA-01 V/A – The Widow's Joy LP – 11 euros
Sound American and Canary Records collaborate for « The

Widow

's

Joy

: Eastern European Immigrant Dances in America 1925-1930″, the first release of Sound American Records. Canary Records curator Ian Nagoski has crafted the ultimate Lemko party record as a labor of love for the forgotten music of the Austro-Hungarian diaspora in the midwest region of the United States. « The

Widow

's

Joy

 » with a cover by Mississippi Records' Eric Isaacson features the music that helped immigrant coal workers and laborers from the Austro-Hungarian region of Europe and moved to Illinois, Ohio, and Pennsylvania to work, live, and dance. Built on the backs of these workers, America has forgotten a large part of their musical culture, which has been overshadowed by more indigenous musical forms like blues, jazz, gospel, and folk musics from Appalachia. In a bid not to supplant these rich musics, but to add more to the story, Nagoski has tirelessly scoured huge collections of seemingly lost and forgotten 78 rpm records to rediscover and bring to light lost cultural gems like those found on « The

Widow

's

Joy

 » and his recent smashing success, « To What Strange Place: The Music of the Ottoman-American Diaspora 1916-1929 »